Yesterday we all went to Tom Cussen's shop in in Clarinbridge in Galway. He has a very nice business and a truly fine banjo he builds. He told us to arrive at 3:00 ish and when we got there he was working with a young woman on a banjo sale. She was there with her Dad and Grandfather who was the one buying it for her. When Tom helped her with the fitting of the strap she played part of a tune and it was clear this young woman was already a fine player at 15 and she'd only been playing it for two years. Such is the level of playing in Ireland. Tom told us as good a banjo player as he is he'd be lucky to place twelfth in any contest these days. Tom took us through his shop and showed us his operation. I was interviewing him for GAL and recorded the entire interview in the Roland to send to Tim. Tom gave us a copy of his band's CD and a few others for our show and invited us to a session on the 16th when we'll be back in the area.
We went back to Kilshanny House to a local session and met David Levine again. It was quite laid back, too laid back and we were all tired and the pace of the session didn't help, so after a couple of hours we took our leave and said goodbye and went home to sleep.
Today we drove down to the Beara peninsula in Kerry. The drive was long but not at all unpleasant. I drove most of the way down and got a pretty good feel for driving on the left side again. We stopped in Killarney and walked through part of the town, which is pretty good sized. Found a music store and picked up a CD at a small music shop. Went to a nice bistro and had coffee and scones with cream and raspberry jam. Yum!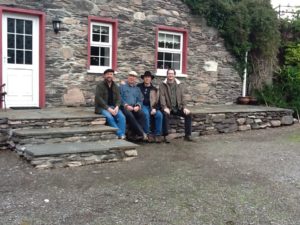 We're in Lauragh in a nice little cottage. Went down to a small pub on the bay and ordered a fresh salmon plate which was fresh and very tasty. When we finished dinner we asked the proprietress if she'd mind us playing some music and she was fine with that. We set up and started and the locals were very receptive. We knew they were pleased when the waitress brought out pints that were unasked for. Jack spoke with her at the end of the evening and she said come back tomorrow night, come back every night. One couple from Dublin who live in Manhattan were really complementary, and another couple from Mayo said that we'd go over well there as well. We' re kind of amazed with our reception and gratified as well. A great fun evening."