The last two years have been challenging for everyone around the world. Musicians have had fewer opportunities to play with each other, and to perform for others. Those of us in Floating Crowbar have become more appreciative of the times we are able to play. We have always played for the joy involved, and no more so than now. We have a deep appreciation for each other, and what each of us brings to our music. It helps sustain us in these times and reminds us that not all is dark in the world. We hope our latest offering brings joy to you, our listeners, as well.
We recorded these songs and sets of tunes in James' dining room over a week in August 2021 when temperatures reached record highs and smoke from forest fires all over the Pacific Northwest forced us to keep all the windows closed! Fionn, James' son, flew in from New Orleans to track and engineer the recording and to provide firm but gentle encouragement to "do just one more take". As usual, we recorded all together whenever possible, only overdubbing vocals and additional instruments when necessary. Fionn even contributed to one piece, adding a banjo line that he'd been casually picking out as we listen to a take.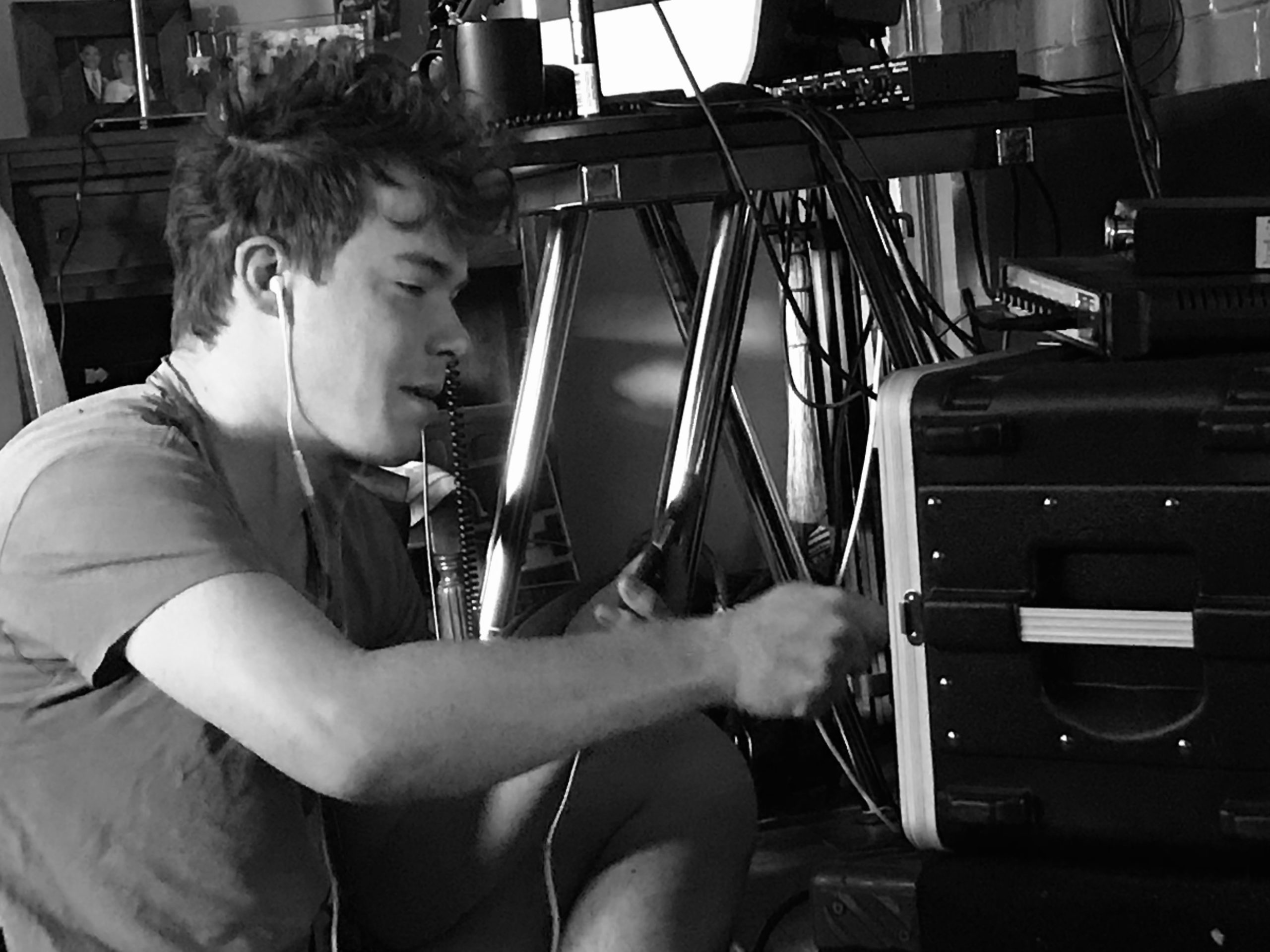 Below, you'll find short excerpts from each piece, along with credits and notes about the tunes and songs.
1. Reels: Killarney Boys of Pleasure / Ormond Sound / Midsummer's Night
Rick: guitar -James: flute – Morgan: fiddle – Don: banjo
Like most traditional tunes, Killarney Boys of Pleasure has many other names: Gaigíní Chill Áirne, Doherty's Reel, Gweebarra Bridge, The New Fashioned Habit, Nora Stack's, and among others.
According to this source, the Ormond Sound reel was "written by a gentleman named Paddy O'Brien (1922-1991), an accordion and fiddle player from County Tipperary. Though the title of the tune makes you think of a body of water, it actually refers to the sound of the Ormond Céilí Band, which was led by Mr. O'Brien."

The final reel in this set is The Midsummer Night, composed by the great Galway flute and whistle player Vincent Broderick (1920-2008).
---
2. Jigs: Christy Barry's
Rick: octave mandolin – James: whistle – Don: mandolin – Morgan: fiddle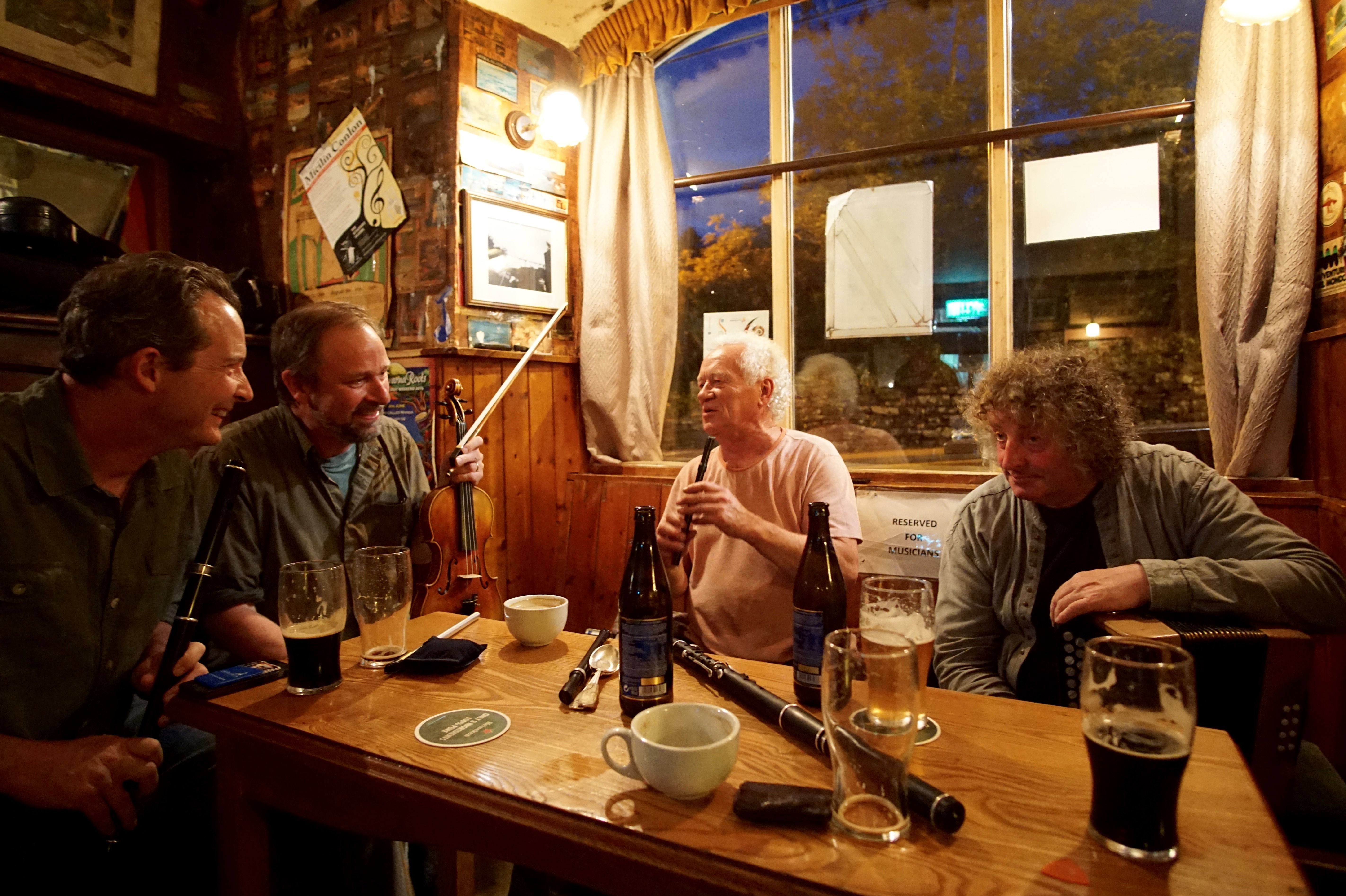 Christy Barry is a wonderful flute and whistle player from Co. Clare who we had the pleasure of playing with on a fine summer's evening at the Roadside Tavern in Lisdoonvarna. At one point, he looked at his whistle in disgust and said 'I hate this whistle!' James offered him his John Sindt whistle to play, and Christy launched into a couple of sets of tunes. At the next pause, he looked at the Sindt and said 'That's a nice whistle. Don't leave it behind, because we'll not be posting it back to ye!'*
We had blast playing with him, and he invited us to sit in on a gig the next day at O'Donohue's Pub in Fanore. He spent most of that gig 'listening to the sound out front' and making sure the Guinness was fresh, but it was a memorable couple of days!
These three tunes are collectively known as 'Christy Barry's Jigs', although it's not clear (and your man isn't telling) whether he wrote all three of them. It doesn't matter: to us, they beautifully capture his energy, humor, and musicality and we love playing them and had great fun recording them. But the second and third tunes do have names: The Butlers of Glen Avenue and The Stolen Purse.
Only a few weeks before we recorded this album, Rick was very generously given a 5-course Stefan Sobell octave mandolin (also known as a cittern) that had belonged to a former bandmate of his, James Funke (who also played in Celtic Nots with our James). James had passed away the year before, and his wife Susanne thought that Rick would be a good home for this beautiful instrument. We were astonished at how quickly Rick got up to speed with it, and you can hear his intricate harmonies and counterpoints on this recording.

*Footnote: Our friend, Becky Deryckx actually walked out of a session with one of Christy's whistles a few years later and did have to post it back to him.
---
3. Song: John Riley
Lyrics and music by Tim O'Brien
Rick: 12-string guitar, vocals – James: whistle, vocals – Don: mandolin, vocals – Morgan: fiddle
John Riley, written by Tim O'Brien, tells the true story of Seán Pádraig Ó Raghallaigh (8 February 1817 co. Galway – 10 October 1850) a soldier who emigrated to Michigan during the famine and enlisted in the US army, where he and many others faced anti-Catholic and anti-immigrant discrimination.
As the song documents, the disgruntled Riley and dozens of others deserted and joined the Mexican Army, where they formed the Batallón de San Patricio. A good synopsis of this history can be read here.
I first heard this song on Tim O'Brien's The Crossing. I had never heard the story and was amazed that it was not in any of the American history books I'd ever read. In fact the entire violent adventure was officially suppressed in the U.S. until 1915. My wife and I have a place in Mexico and in sharing this story with some of our Mexican friends I discovered the story of the San Patricios is well known, and that they are revered for their bravery and support of the cause for Mexican independence.
No spoilers here…Listen to the song to hear the rest of their sad story.
Lyrics:
John Riley came from Galway town in the years of the Irish hunger
He sailed away to America when the country was much younger
Now the place was strange and work was scarce and all he knew was farming
So he followed all the other men to a job in the US Army
Chorus:
Adventure calls and some men run, and this is their sad story
Some get drunk on demon rum, some get drunk on glory
Now they marched down Texas way to the banks of the Rio Grande
They built a fort on the banks above to taunt old Santa Anna
They were treated bad, and paid worse, and then the fighting started
And the more they fought the less they thought of the damned old US Army
Chorus
When the church bells rang on Sunday morn they set his soul a shiver
Saw the Señoritas wash their hair on the far side of the river
John Riley and two hundred more Irish mercenaries
They cast their lot, right or not, south of the Rio Grande
Now they fought brave under the flag of the San Patricios
Till the Yankee soldiers beat them down at the battle of Churubusco
And fifteen men were whipped like mules
On the cheeks they were hot iron branded
Made to dig the graves of fifty more, who a hanging fate had handed
Chorus
John Riley stands and drinks alone in a bar in Vera Cruz
And he wonders if it matters much if you win or if you lose
"But I'm a man who can't go home, I'm a vagabond," says he
"I'm a victim of his wanderlust and divided loyalty"
Chorus
---
4. Reels: The Coachman's Whip / Scartaglen / The Shaskeen
Don: mandolin – Morgan: fiddle – Rick: guitar – James: flute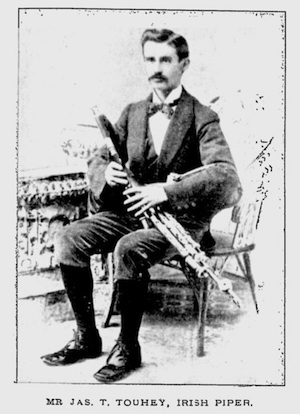 The Coachman's Whip is another Vincent Broderick tune, published in his Turoe Stone collection, which has the tune more or less how we play it here. The A and B parts are often played in reverse order. There's a great interview of Vincent on the Irish Traditional Music Archive site, in which he talks about how he learned the music and his life as a musician.
The Scartaglen, also called The New Post Office, is apparently a Kerry tune popularized by fiddler Paddy Cronin, and named after the village Scairteach an Ghlinne.
The Shaskeen refers to either the village of Seascainn or to a marsh, or both. According to The Music of Mayo website, "there existed an old now deserted village of Seascainn, part of the larger townland of Gabhlán near Doocastle in East Mayo where apparently Michael Coleman travelled to a 'spraoi' at 'Scanlon's house.'…Pakie Hunt from Cloonfeightrin, Doocastle recalled the night Coleman first heard The Shaskeen reel played by Paddy Sweeney from Moylough:
So mighty is the tune, in fact, that the Rev. Dr. Henebry of Waterford was moved to comment: "The Shaskeen Reel is so supreme that I am utterly without words to express my opinion of it…It represents to me human man climbing empyrean heights and, when he had almost succeded, then tumbling, tumbling down to hell, and expressing his sense of eternal failure on the way. The Homeric ballads and the new Brooklyn Bridge are great, but Patsy Touhey's rendering of The Shaskeen Reel is a far bigger human achievement."
[Here is a cylinder recording made in 1904. Judge for yourself.]
---
5. Jigs: An Siocan Sneachta / Currants For Cakes And Raisins For Everything / An Roilleach
An Siocan Sneachta & An Roilleach by Joe Carey
James: flute – Morgan: fiddle – Don: mandolin – Rick: guitar
An Siocan Sneachta (mountain thrush) and An Roilleach =(oyster catcher) are two tunes composed by our friend Joe Carey, who also wrote Dympna's Waltz (recorded on Down the Lane). In one version he recorded on An Siocan Sneachta, he plays with the rhythm of the B section and we liked it so much we've done the same here.
Currants is a 2001 composition by Anne Conroy-Burke.


---
6. Song: Mattie
Rick: octave mandolin, vocals – James: bodhrán – Morgan: fiddle – Don: mandolin
Words and music by Johnny Mulhearn; arrangement by Rick Rubin and Floating Crowbar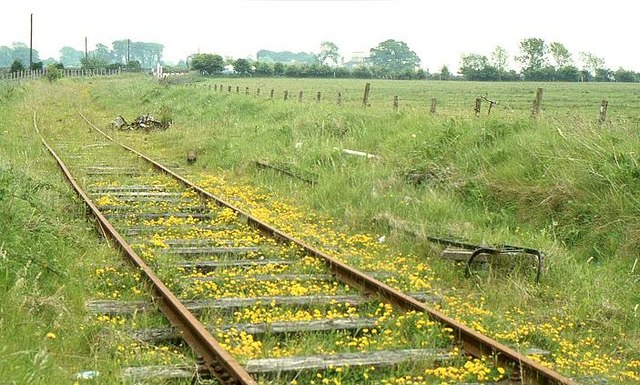 The Curragh Line railway
© Copyright Albert Bridge and licensed for reuse under this Creative Commons Licence.
We first heard this song in 2018 from our Westport, Co. Mayo friend Pat Eade at a session in The Cobbler one evening. It was one of those songs that captivated me on the first hearing. Written by Johnny Mulhearn it's a song full of dark imagery and symbolism, a man lost to himself and tolerated and mocked by acquaintances. One night while staggering home from the pub he meets his dark shadow self and in attempting to capture it loses his life. I lost a friend, Terry Conlan, to drink and for me this song represents his struggle.
Lyrics:
Mattie went out on a frozen night
Making for the pub shoulders hunched up tight
Head down on the railroad track
His old cow Delia sad lowin' him back

He met with a dark and a troubled man
As he passed him by called back at him
"Hey Mattie can't you see what's become of me?
I cannot feel the blight."

"The house I've left is dead to me
To my rhyming and my poetry
All I've left is the beat of the stagger
Headin' down the curra line

Mattie passed on as quick as he could
He could'nt stand such a crooked man sober
All he wanted was the lights of the bar
The Nightingale and the Wild Rover

The fear an tí eyed him steadily
As he handed him a pint of porter
Saying "You must have seen the bishop's ghost tonight
to put the dry look back in your eye!"

But Mattie would not be taken in
By their jibin and regalin
He found himself a fresh blown crew
And fell in with their sportin and their balin

As he was goin home in the very same spot
He met with his dark familiar
He seen him comin back down the road
He was bright and sharp and fine

As he passed him by Mattie threw out his arms
And tried to grab hold of his likeness
In the morning all we found was his frozen corpse
At the butt of the curra line

At the wake they were lashin' out
The Drops of Brandy, the Auld Fashioned Habit
In the church they were lashin' out pounds and fivers
So Mattie would be fine in the old bye and bye


---
7. Jigs: Humours Of Killarney / The Cricket's March Over The Salt Box / When The Cock Crows It Is Dawn
Don: banjo – Rick: guitar – Morgan: fiddle – James: flute
The Humours of Killarney is another tune that has clearly done the rounds and earned a new name each time! Here are some: An Síoda Atá Id Vallait? (Is your wallet made of silk?), Bill The Weavers, The Cat In The Corner, The Humors Of Kilkenny, The Humours Of Kilkenny, The Humours Of Killarney, Is It Silk That's In Your Bag?, Pórt Phádraig Uí Chaoimh, Sheehan's, The Silken Wallet, Sugra Cill Chainnaig…
The Cricket's March… is either a tune by the contemporary writer and flute player Larry Nugent…or it isn't!
When the Cock Crows… is a plucky little jig that also has a nonsense rhyme:
Tá an coileach ag fógairt an lae
Tá an coileach ag fógairt an lae
Tá an mhuc ag an doras
ag iarraidh é a oscailt
Tá an coileach ag fógairt an lae
(The Cock is Announcing the Day
The Cock is Announcing the Day
The Pig's at the Door
Trying to Force its Way In
The Cock is Announcing the Day)
---
8. Reels: Crib Of Perches / Beare Island Reel / McGreevy's
Morgan: fiddle – Don: mandolin – Rick: guitar -James: flute
James brought the first tune to the band after hearing it in several sessions in Ireland in 2018, and Morgan taught us the Beare Island while we were staying in Fenore in that same year. We recorded this set of tunes twice, with a different reel at the end but finally settled on McGreevy's as having the perfect combination of swing and groove to end the set.
That's Beare Island behind us in the photo!
---
9. Song: Slip jigs and Reels
James: flute, vocals – Morgan: fiddle – Don: mandolin, Weissenborn – Rick: guitar
Words and music by Steve Tiltson; arrangement by Floating Crowbar
We got this one from the Setanta recording by Dale Russ, Finn MacGinty, and Hans Araki. On that album, Finn and Hans do an absolutley beautiful job with the the song, both of them having voices like mellowed honey. Finn passed away in 2018, so we'd like to dedicate our version to him.
According to Mainly Norfolk, "Steve Tilston composed The Slipjigs and Reels after seeing a photograph of a desperado who was killed by Mescalero Apaches ca. 1870. He sang it on his 1992 album with Maggie Boyle, Of Moor and Mesa, and on his 2018 CD Distant Days. He commented in the fist album's liner notes:
---
10. Waltz: Patrick Kelly's
Don: banjo – Rick: guitar – Morgan: fiddle – James: flute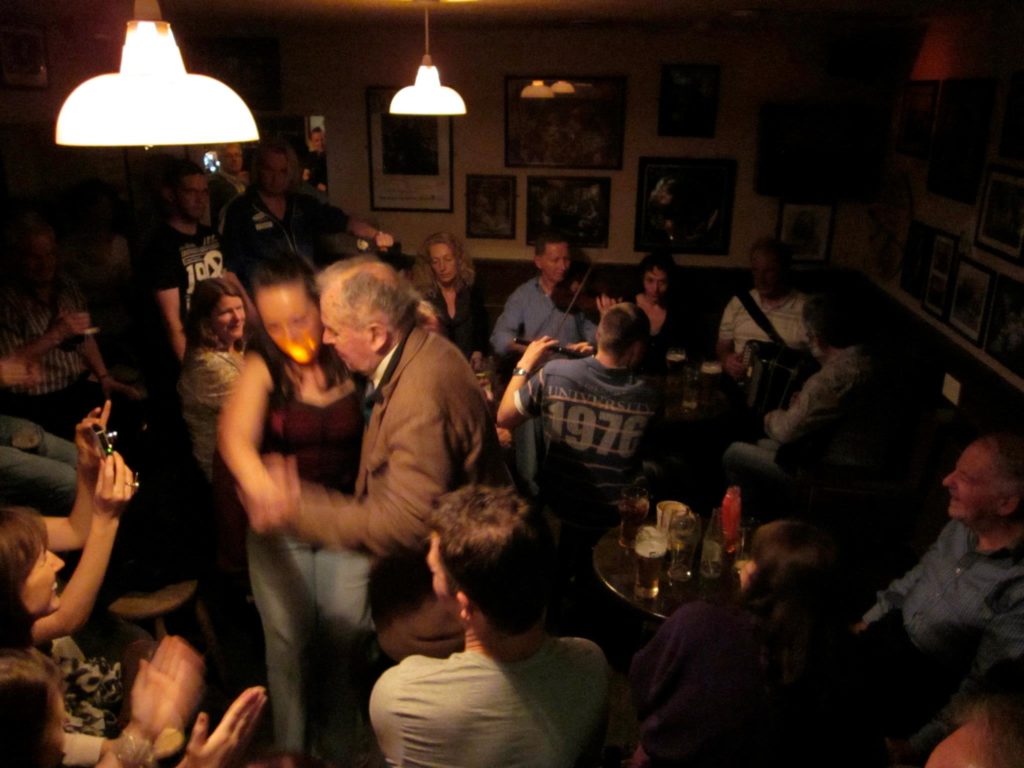 Don introduced us to this sweet Waltz. According to ConnorW on The Session, "This tune appears to be a development of 'The Cachucha' waltz. The dance gained international recognition when on the 1st of June, 1836, the famous Austrian dancer, Fanny Elssler (1810-1884), made her debut performance of it in Paris in the role of Florinda in the ballet, Le Diable boiteux by Jean Coralli and Casimir Gide."
---
11: Jigs: The Doberman's Wallet / The Mouse In The Cupboard / The Orphan / McHugh's / Stan Chapman's
Morgan: fiddle – Don: banjo – Rick: guitar – James: flute
This set is one of those where we just kept adding tunes because we liked the transitions and the journey the set took as it evolved.
The first tune is by the legendary Frankie Gavin. The story goes that he played it for a friend who told him: "It's lovely, a great tune – it's the dog's b****cks". "Well, he can hardly call it that, now, can he? "I can't call it that!" says Gavin. So the friend says "Call it the Doberman's Wallet."
We were in a session at The Grainne Uaile in Newport, Mayo, and Morgan found himself sitting next to a chap who introduced himself as McHugh. "No relation to this McHugh, are you?" said Morgan, playing the first few notes of the tune. "Aye, that was my grandfather!"
---
12: Song: 12 Down By The Salley Gardens
Rick: guitar, vocals – James: flute – Morgan: fiddle – Don: mandolin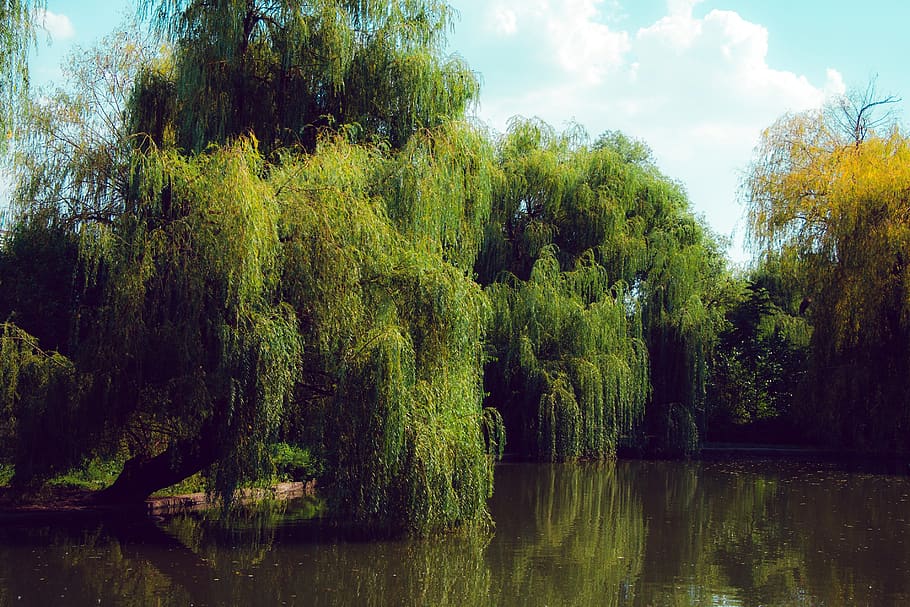 WB Yeats says he wrote the poem based on a three line fragment of a song he heard an old woman sing in the village of Ballisodare, Co. Sligo.
The song most likely was the Rambling Boys of Pleasure whose first verse follows.
"Down by yon flowery garden my love and I we first did meet.
I took her in my arms and to her I gave kisses sweet.
She bade me take life easy just as the leaves fall from the tree.
But I being young and foolish, with my darling did not agree."
It has been suggested that the location of the "Salley Gardens" was on the banks of the river at Ballysadare near Sligo where the residents cultivated trees to provide roof thatching materials. "Salley" or "sally" is a form of the Standard English word "sallow", i.e., a tree of the genus Salix. It is close in sound to the Irish word saileach, meaning willow.
---
13: Jig/Slip jigs: Sorry I Am For What I Have Done / The Whinny Hills Of Leitrim / Humours Of Bally Manus
Morgan: fiddle – Don: banjo – James: flute, uilleann pipes, bodhrán – Rick: guitar
The first tune we got from Alan Reid & Rachel Conlon's beautiful recording, A Quare Yield. We had been playing The Whinny Hills… and Humours of Bally Manus for many years for the Haran Irish Dancers, and decided to put this set together to have it recorded.
---
14: Reels: Paddy Taylor's / Castle Kelly / The Caha Mountains
James: flute, bodhrán – Don: mandolin – Morgan: fiddle – Rick: guitar
Paddy Taylor's is a reel that we heard on our last trip and we just couldn't stop playing it! Castle Kelly is an old session favorite, and it seemed to fit here to build suspense before the dynamic Caha Mountains.
And what should we find at the top of Healy Pass on the Caha Mountains…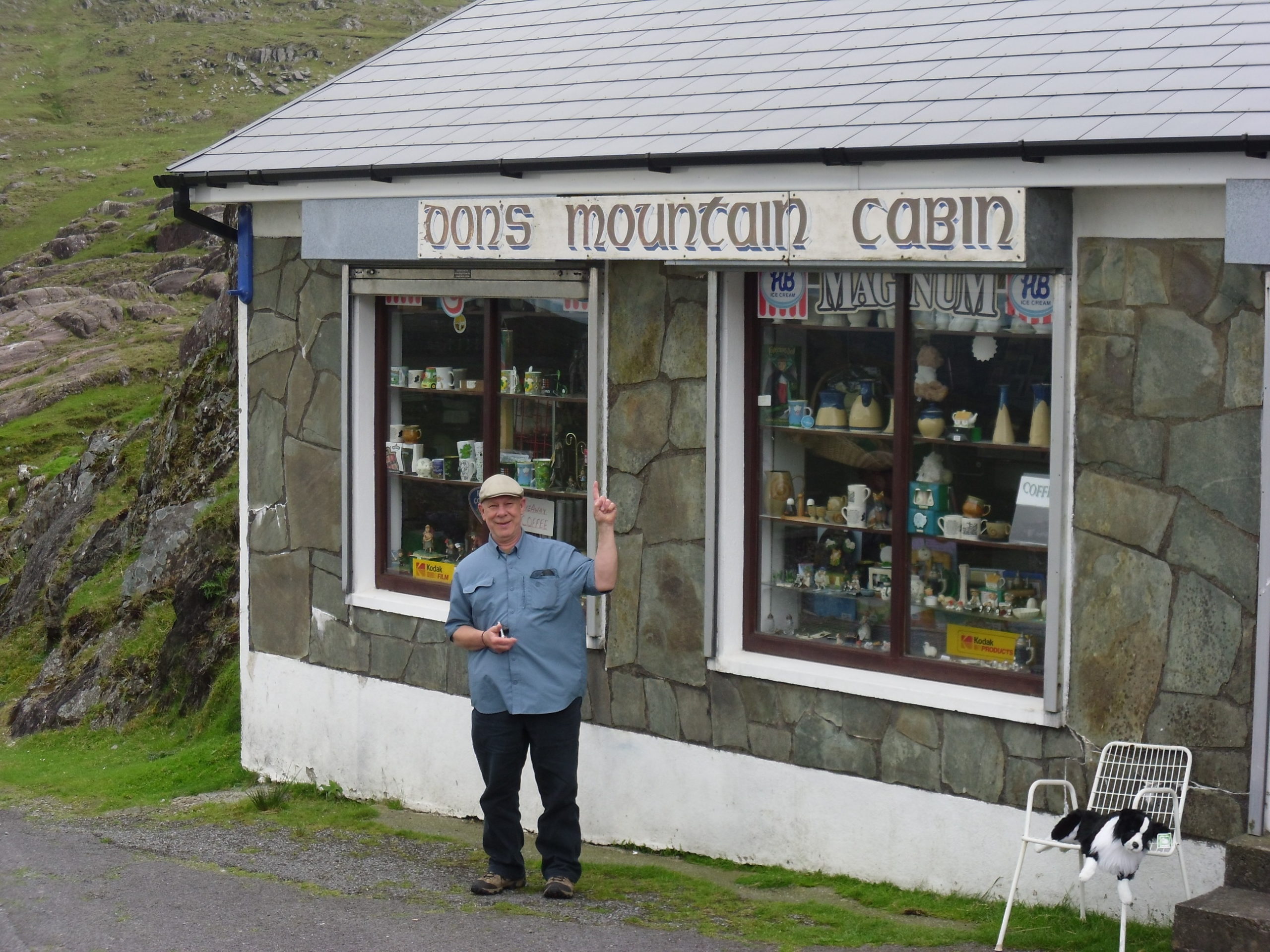 ---
15: Song: The Galway Shawl
Don: vocals – Morgan: fiddle – Rick: guitar – James: whistle – Fionn Hunter-Green: banjo
The Galway Shawl is a sweet song about courtship and the power of music to bring anyone around to the cause.
The song is almost always sung as a waltz, but through a happy accident, we ended up doing it in 4/4, which gave us room to do 1940s-style background vocals…
Lyrics:
At Oranmore in the county Galway
One pleasant evening in the month of May
I spied a damsel, she was young and handsome
Her beauty fairly took my breath away
Chorus:
She worn no jewels, nor costly diamonds
No paint nor powder, no none at all
But she worn a bonnet with a ribbon on it
And 'round her shoulders was a Galway shawl
We kept on walking she kept on talking
'Till her fathers cottage came in to view
Said she, 'Come in sir', and meet my father
And play, to please him, 'The Foggy Dew'
Chorus
I played, 'The Black Bird', and 'The Stack of Barley'
'Rodney's Glory' and 'The Foggy Dew'
She sang each note like an Irish linnet
And tears weld in her eyes of blue
'Twas early, early, all in the morning
I hit the road for old Donegal
Said she, 'goodbye sir', she cried and kissed me
But my heart remain with the Galway shawl
Chorus
---
16: Song: Twas A Magic Mist That Put Me Astray One Night
Morgan: viola, octave mandolin – Rick: guitar – James: flute – Don: octave mandolin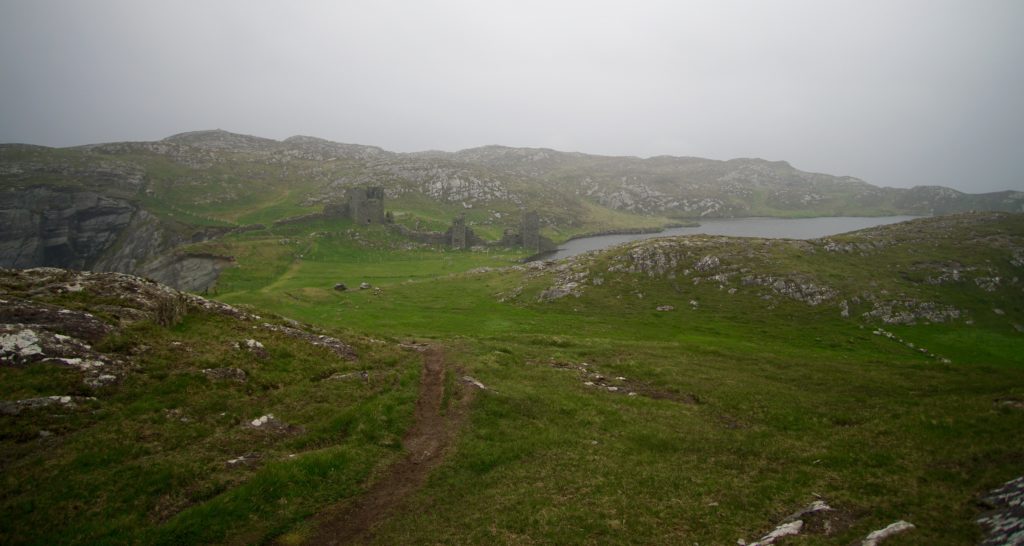 ---
17: Reels: The Twisted Tree /Jenny's Welcome To Charlie
Morgan: fiddle – Don: banjo – James: flute, uilleann pipes, bodhrán – Rick: guitar
Morgan wrote the first tune inspired by a particularly twisted tree on Bainbridge island in the San Juans. Jenny's Welcome is a tune we've been playing with for years, and it just seemed to fit.
Rick pointed out that given the passion of the tune, he wouldn't have wanted to be Charlie!
---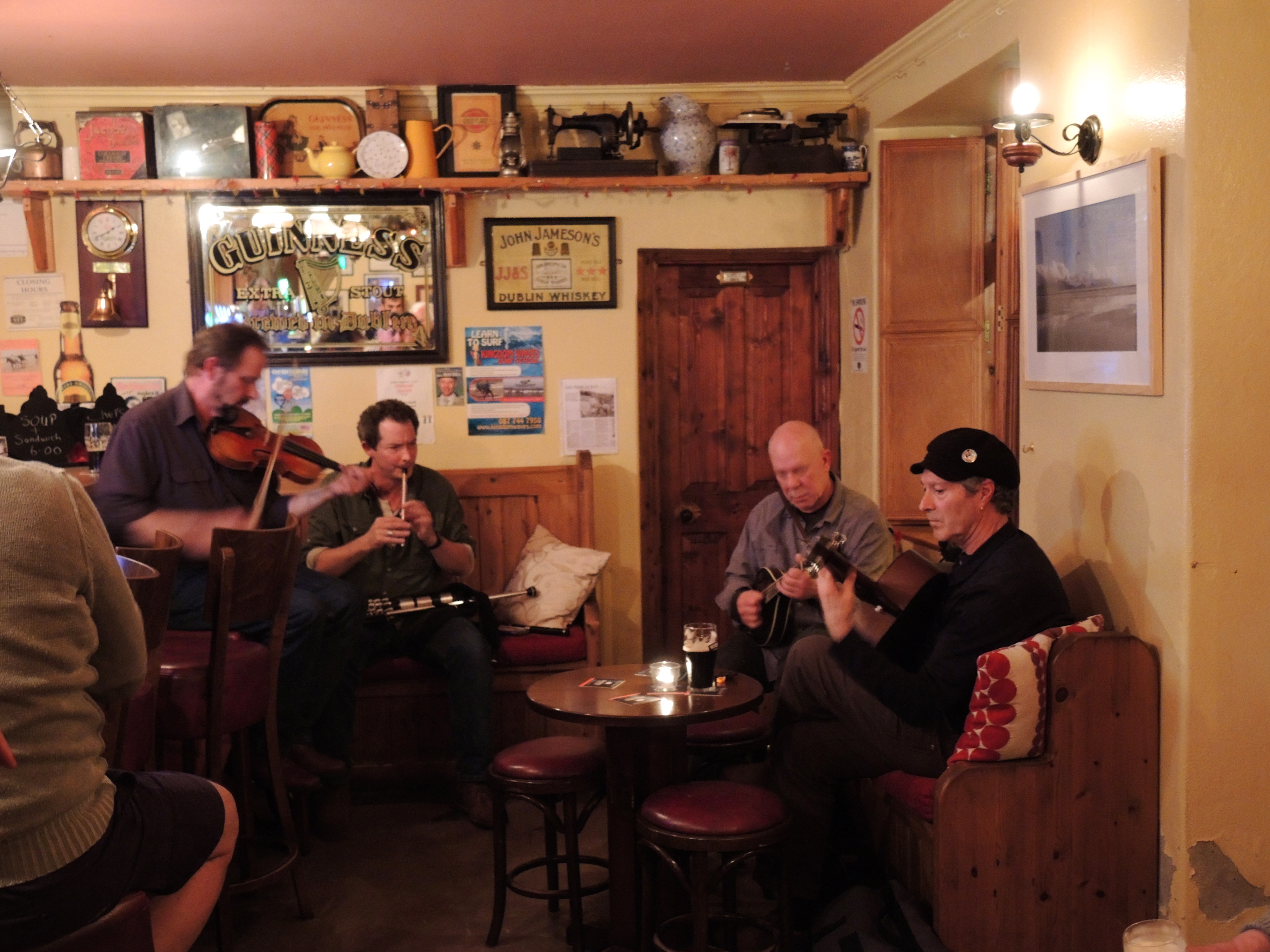 ---