We drove up to Mayo on Sunday. We stopped in Kenmare on the way out and had a coffee and stopped at the lace shop that we saw so Morgan could find something for Peg. It's a nice shop and I found some nice little linen bags for the girls and Ally. Today the 11th we headed out to Achill Island. A very beautiful place and we drove out to the end of the road and Don remembered a beach that they'd been to on a previous trip. The beach looked like it belonged in the Caribbean with white sand and gorgeous blue water. We walked on it for quite a while and I took some video.
Tonight we're going to head into Westport and get a pint at Matt Malloy's Pub and see if there's any music or a session we can go to. Well, Matt Molloy's is a fun place, but filled with tourists so Morgan remembered a pub called McGing's that he and Matt visited back in 1999 so we sauntered up there and loved the place. Very warm and the opposite of Molloy's : mostly locals hanging out and talking with a pint in hand. As we were settling in Morgan started chatting with a fellow and they started discussing things and Morgan found out he's a musician and he admitted to playing the pipes.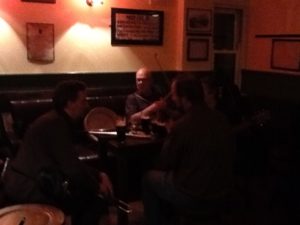 James and I got in on the conversation at this point and James said oh you play pipes and John, the piper, said that he didn't have his with him. James said well I happen to have a half set in the car and Morgan said and we also have a fiddle and mandolin and guitar, etc. Well that's all it took, we grabbed everything and brought them in, sat down and played tunes for a couple of hours. Noddy, who was tending bar kept bringing out fresh pints. The Irish are so hospitable. John's a fine piper and a nice man. He called his girlfriend Maria, who's a real fire cracker and she came down and we had lots of laughs and she took us under he wing and told us of some sessions. When we asked her why she didn't bring her fiddle she admitted that often the spur of the moment sessions are rubbish, but if she'd realized how good the playing was that night she'd have bought it.